That
S T Y L E M O M E N T
...
When denim vests are so hot right now.
In the wise words of LL Cool J,
don't call it a comeback
. They've been here for years.
Whether they're bejeweled or dip-dyed, denim vests have arrived since the last time they re-arrived and then re-re-arrived after that one time they arrived.
You catch our drift

?
Anywho, we've been stuck in a
denim daze
ever since we laid eyes on a number of adorably denimesque ensembles. And it got us thinking, why haven't we thought outside of the box when it comes to denim? As of late we have taken notice to the versatility of the
wonderful world of denim
(we ain't just talkin' vests) + all it has to offer. Denim isn't always rocker-chic. Per example, the notable following ...
DENIM GONE GLAM
A tough look to pull off, especially at the Met Gala, but this style maven does it oh-so well!
Jenna Lyons, can do no wrong in our notes. This look has done denim good, too good.
CASUALLY DENIM
We love the idea of pairing the denim vest with a classic dress or even a long billowy skirt (see: Jessica Alba below).
A dress or any feminine piece, for that matter, adds flirtation to such a 'rough around the edges' staple.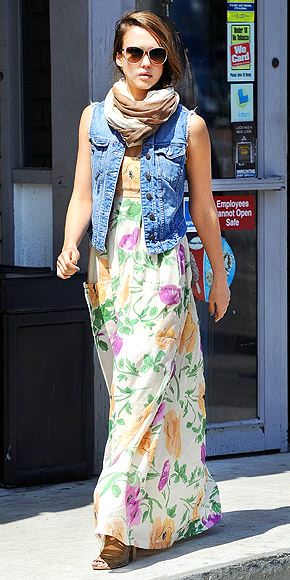 Photo cred via peoplestylewatch.com
. . .
sharing note worthy style moments
Tweet